Backup System
The backup system permits you to take your own backup of your website, emails, logs and databases.
Lowesthosting already takes daily off server backups as well as maintains archival backups to protect your data so its not necessary for you to use this tool under normal conditions, however you may want to take a backup prior to making changes to an on line CMS like Wordpress, installing scripting patches or updates, or to maintain an even newer safety copy.
The Backup Wizard offers you the choice of a FULL backup of your entire website including all Files, Email and Logs or a PARTIAL backup of selected sections to a dated compressed tar file that will be stored in your /home directory.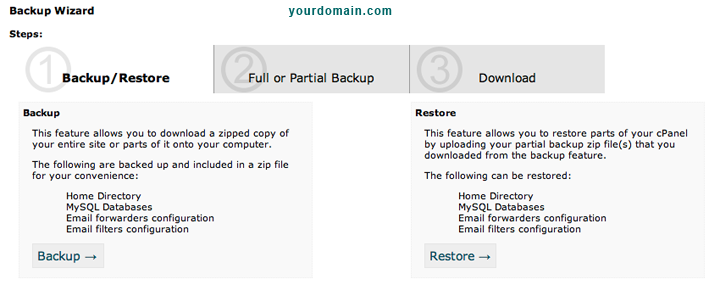 Once the backup has completed you can leave the file in place or download it to your local computer. If you ever require a restoration from one of the backups you have made, simply open a support ticket and specify the date of the backup, and our staff can do the restoration free of charge.